By Stephen Reed
Since the start of the ongoing ground offensive aimed at containing Hamas, Israel has reportedly lost 13 soldiers—something not anticipated by IDF (Israel Defense Forces) leadership while it announced to send troops to battle Gaza militants.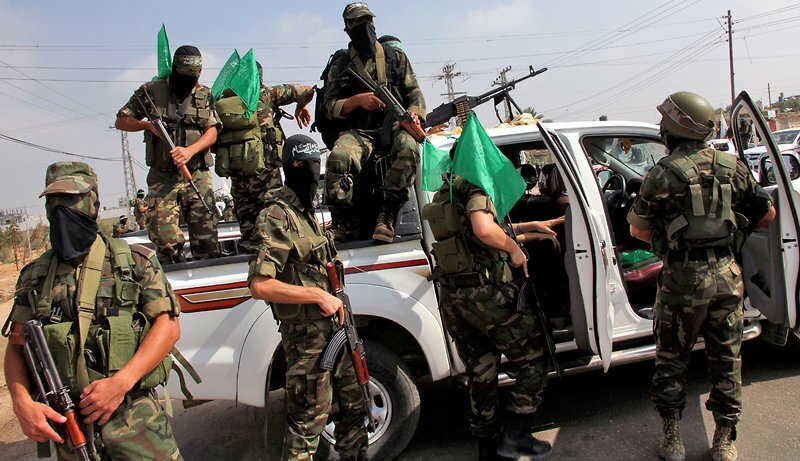 Qassam Brigades members patrol in Gaza
Often portrayed as a small-scale ragtag army, the sophistication of Hamas military tactics in recent war with Israel has grabbed war experts' attention.
Qassam Brigades, Hamas military wing, is often seen as a poorly-armed militia expert in urban
guerilla
warfare, but the militant Islamists' "life experience" from their years in the wilderness, their study of Israeli military tactics and its vulnerabilities have helped reverse their once-miserable condition, war experts believe. Hamas has now grown into an advanced military capable of surprising any regular army in the battle field.
First Sergeant Eitan Barak who was killed in Hamas raid. Barak served as a platoon commander in Nahal Brigades (Picture taken from Facebook)
Gaza militants are no longer dependent on Iranian weapons that are smuggled through tunnels. They are manufacturing a range of long-range missiles at facilities in Gaza Strip. Although Israel has claimed to destroy several missile-making facilities during current offensive, Qassam fighters continued to rain rockets on key cities like Tel Aviv.
Hamas arsenal now boasts anti-tank missiles capable of damaging
armoured
vehicles at a long distance, M-75 missiles with a little less than 100-
kilometre
range, and a number of short-range rockets.
The recent ground offensive launched by IDF saw Hamas carry out sophisticated attacks that left at least 13 Israeli soldiers dead and several seriously wounded.
Demonstrating a smart military tactic in the current ground offensive by Israel, Qassam fighters dressed as Israeli soldiers crawled through a tiny tunnel into Southern Israel and launched a surprise assault with machine guns other light weapons, killing two soldiers on the spot. Having done their job, the fighters slipped their way back into Gaza through the same tunnel without losing any member involved in the assault.
With Prime Minister Benjamin Netanyahu sending additional Israeli troops to knock Hamas and Islamic Jihad off balance and an ongoing offensive in Gaza Strip, a better understanding of today's Hamas is central to the effort to humiliate Gaza militants in ground offensive. Fearsome air power clearly is not capable of stamping out militants' hideouts inside Gaza Strip, as it only draws international condemnation over civilian deaths.
While a lot is made of the deaths of key Hamas militants in recent air strikes and the assassination of Ahmad Jabari, a key figure in Qassam Brigades, the Jihadist group appears to be a movement in transition, with greater sophistication along with limited reliance on long-time backers like Iran and Syria.